VERTICAL BIOMETRY SOLUTIONS (AUTHENTICATIONS AND DIGITAL ONBOARDING)
Extractta is an official distributor of FacePhi Solutions in Brazil and responsible for professional services – Installation, Training, Maintenance and Support.
FacePhi is a global leader in facial recognition technology, with a strong focus on the financial sector.
Solutions built in an innovative way to enhance the customer experience effortlessly, using a simple camera on the mobile device to take a selfie in a method of identification and interaction with the Bank's mobile application.
FacePhi is the only company that completely designed and developed its algorithm, which has already been validated by several global customers and companies.
Solution that originated from the demands of facial recognition has also evolved to meet the other biometric solutions such as Digital and Voice (Multibiometry).
Some numbers that support our success story: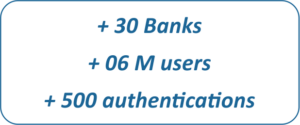 Selphi® technology arrives to make users' lives simpler and safer.Just taking a selfie, it extracts the main features converting them into a pattern that will be sent to the institution's server.
In this way, the first time the process is carried out, a biometric record is created that allows comparison for future authentications.
With this standard, tokenized and encrypted, with an average size of 6Kb, it is not necessary to send the image.
Thanks to a liveliness detector, it is possible to make accesses and secure transactions avoiding pishing, identity representation and Man in the Middle.
* Selphi® compares 16,000 points on the face, achieving a 99.998% hit rate.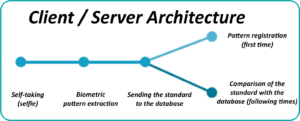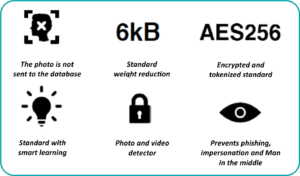 VERTICAL ECM and EMC SOLUTIONS
ECM (Enterprise Content Management) / CEM (Costumer Experience Management) 
We operate throughout the lifecycle of your business content, improving business productivity, simultaneously reducing risks and controlling costs. With different ECM Solutions and agile management of strategic information, we work to reduce risks and costs by increasing the volume of content:
Management of information flows, from capture to archiving and deletion.
We apply reliable and consistent management policies on any type of content, regardless of the source (Internal Sources x External Sources – Companies x Cloud).
We adapt information management to the needs of users, building business processes and applications for continuous use such as: SAP®, Oracle®, Opentext® and Microsoft®.
We offer users quick and uninterrupted access from any device or source – Web, Desktop or Mobile.
We guarantee quick access to secure sources of information, optimizing business processes and providing an in-depth view of your information.
Full integration between common and documented development tools with standard layers, including Content Suite components.
VERTICAL OF RPA SOLUTIONS / STRUCTURING AND SUPPORT OF RPA SOLUTIONS
Robotic Process Automation (RPA)
Competitive markets reinforce the need to produce more with lower cost and greater efficiency in the execution of operational processes.
It is estimated that more than 50% of administrative tasks can be performed by robots:
Our work methodology analyzes processes and eligible automation steps.
We perform return analysis and financial earnings statements.
Through the management of indicators, we demonstrate the real gain with automation.
We operate with the most renowned technologies and specialists on all platforms.
VERTICAL OF INTEGRATED SERVICES / BIG DATA, IOT AND APIS PLATFORM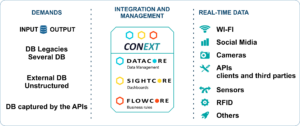 From the partnership between CONCORE and EXTRACTTA, CONEXT was born.
Integrated Data Platform – Legacies, Big Data, IOT.
APIs – Fully Customized Integration Suite
Nucleus responsible for Management, Storage and Security (ACL)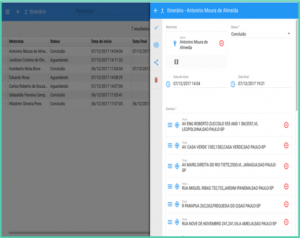 In addition to storing information, DATACORE is a data modeling layer above your database and / or external system (s).
With DATACORE the user can search and edit information in real time respecting the permissions defined by the platform or by API.
Nucleus responsible for Workflow Automation and Business Rules
FLOWCORE empowers the Business Area, as it generates autonomy for the creation and maintenance of its processes with a friendly interface, always respecting access permissions.
In this way, the business area directs its energy in what is important, in its information processes and flows, while the IT area, in the access management processes.
Core responsible for the Analysis, Visualization and Data Extraction Layer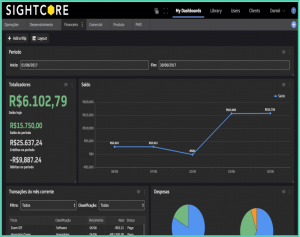 SIGHTCORE allows the creation of standard dashboards and allows users to create new filters and / or visualizations.
When connecting external sources, it is possible to consolidate the data in a single view, increasing productivity, with an excellent user experience.
In the example to the side we have three sources in a single view:
O SIGHTCORE possibilita a criação de dashboards padrões e permiti aos usuários a criação de novos filtros e/ou visualizações.
ERP
Leads (Datacore)
Google Analytics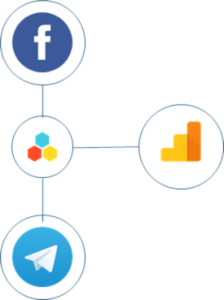 APIs – Structured Suite to Orchestrate Information Streams Across the Company Through the APIs, Concore and its applications can communicate with each other without user knowledge or intervention.
Concore was conceived based on the concept of API First, that is, all its functionalities can be executed and consumed through APIs.
Structured Suite to Orchestrate Information Flows for the Entire Company
+ 750 INTEGRATIONS
INNOVATION MAT CONSTRUCTION – AGILE & MVPS
SPRINT DESIGN:
AGILE – Agile Validation of Innovations.
MVPS – Deliverable to the Customer.
AGILE TRANSFORMATION:
Lean Startup:
Rapid Validation of Hypotheses.
Accounting for Innovation.
Agile Development.
Fortnightly deliveries to the Customer.